Wall mounted air conditioning systems are the entry level air conditioning system comprising of a high level indoor unit connected to a single outdoor unit.
These wall mounts are ideal for small to medium sized applications and also offer energy savings over conventional forms of heating.
cost effective installation in new or old buildings
quiet operation – down to 24 dBA at the lowest setting, ideal for offices
vertical auto swing function allowing an even distribution of air
energy efficient – up to Class A rating (ECA qualifying)
simple infrared remote controls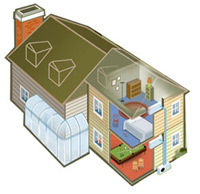 Multiple indoor units can be fed from one outdoor unit, without the expense of a variable refrigerant volume / flow system (VRV / VRF) system.
Multi split systems are ideal for when outdoor space is limited or when some offices are only used at certain limited times i.e. a board room linked to multiple offices.
They are particularly suitable for domestic applications which allow us to apply a diversity factor because not all the rooms are in use at the same time.